As one of NAMI's most active advocates, we need your help.
In the last few weeks, we know that life during COVID-19 has become more difficult – even more so for people with mental health conditions.In the best of times, we know it is hard to get mental health treatment and support, and the coronavirus is making it much worse, especially for people in crisis. And more people than ever, including essential workers, are experiencing a need for mental health care.
The result? A growing mental health emergency.
That's why Congress needs to act quickly to support people with mental health needs in the next coronavirus relief bill.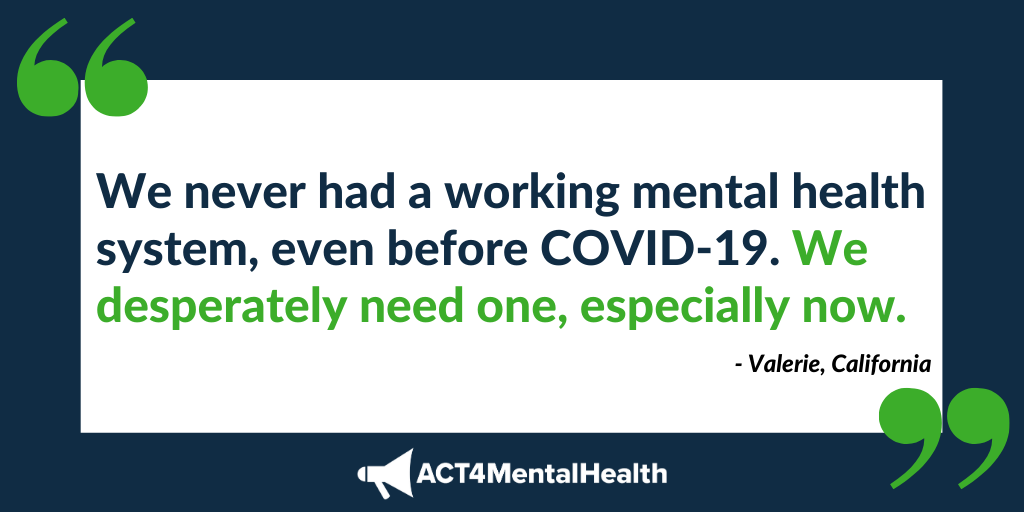 People across the country are having trouble accessing treatment or medications, are worried about a loved one in crisis with nowhere to go, are facing an increase in their symptoms because of isolation or facing new challenges from their work on the front lines.
Please help by asking your members of Congress to address the mental health impact of the coronavirus pandemic. It takes less than two minutes using our advocacy headquarters.
Tell your members of Congress to prioritize:
Funding 9-8-8 as the National Mental Health Crisis and Suicide Prevention Hotline to help people experiencing a mental health crisis, no matter where they live, receive timely care.
Providing grants to states to expand virtual peer supports through organizations like NAMI. Connecting to peers is important to help people manage their mental health conditions, especially during this emergency when people are more isolated.
Approving funds for states to offer crisis and grief counseling to address the mental health impact on essential workers. These everyday heroes are facing mental health struggles and need help now.
These are difficult times. And the need for mental health care continues to grow. Take action today. Your voice can make a difference in ensuring Congress addresses the mental health challenges our nation is facing as a result of this crisis.
Thank you for your advocacy.